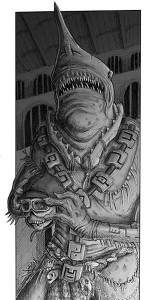 As you may know, we have a Kickstarter running for a new adventure for Base Raiders. Boiling Point has investigation, combat, exploration, and traps that will take your group multiple sessions to resolve. It can also be the centerpiece of a campaign, depending on how you want to use it. One important group in the adventure are the Selachius, a race of shark-like warriors from another universe. They're exploring our world and the player characters will be among the first natives they meet. One of their leaders is Dressed-In-Bones, a powerful shaman.
Description
Dressed-in-bones is a mystic responsible for ensuring that the prey hunted and killed during the coming war is of proper quality and pleasing to the spirits. His skin is jet black except for white and red markings which cover his head and back. Great age is clear from the loose skin and thin frame but a predatory menace hangs in the air about the shark. Though he wears no clothes he is covered by coils and coils of beads made from teeth and bone.
Aspects
Alien: Shaman Of Alien Spirits
Villainous Past: I Am The Black Shark
Conviction: The Old Ways Are The Best Ways
Conviction:  The Spirits Have Spoken Through Me
Complication: Not So Young Anymore
Conviction: A Predator Of The Mind And Soul
A Shark Willing To Talk
Spirit Shaman

Power Tier: Superhuman
Networking + Unusual + Psychic, Willpower, Guile, Influence, Esteem, Convince, Stress Cap. [Reputation], Stress Cap. [Composure]
Conviction [Major]: The spirits have spoken through me
Description: The ways of spirits are manifold and a shaman must know them all, lest he be swept up and drowned by their power. Dress-in-bones has survived the trials of the spirits since he was young and knows their ins and outs. With his command over the court of the dead mere conversation with the living is of little concern.
An Elder Among Shark Men
Power Tier: Extraordinary
Menace, Inspire, Environment (Underwater), Languages, Information, Notice
Complication [Major]: Not so young anymore
Description: Long studied in his people's ways and the ways of dozens of crushed species across the multiverse, Dress-in-bones knows surprising things. Little escapes his attention, even if his sight is blurrier than it once was. And should he feel the need he is more than able to inspire fear in those who lack respect for their elders.
Battle Fury of the Black Shark
Power Tier: Superhuman
Strike + Spray, Parry + Unusual, Dexterity, Move, Leap
Charges [Minor] Conviction [Major]: A predator of mind and soul
Description: Undying within all true Selachius is the burning desire to be at the very top, to be unconquered by anyone. Dress-in-bones is old and no longer is the strongest of his kind but his spirit capable of temporary overriding the resistance of his body. For a short time he is able to unleash the fury of a warrior upon his enemies, a blur of speed and cutting savagery. While he will speak calmly in nearly all other situations when he is goaded or derided as weak or lacking in predatory stature the rage can overcome him.