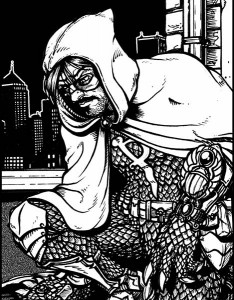 This explains the backstory of Pilgrim, one of the NPCs listed in the Rogue's Gallery. Thanks to Danny Morgan for writing it!
"Don't be late, Pilgrim. I need you here at midnight, not one second later."
The face of Adam Conroy, a.k.a. the Black Templar, filled the giant screen dominating the workshop of Ray Hooper, a.k.a. The Pilgrim.
"No problem. Got a few errands to run late afternoon, but I'll be there on time. Well, maybe a couple of seconds late. Maybe ten seconds? Yeah, let's live dangerously!"
"I'm serious!"
Ray realized that the Templar had just let a trace of actual human emotion creep into his voice. That was…unsettling.
"Okay! Just joking, I'll be there. You know I will." Ray frowned at the screen. "Hey, er, is everything alright?"
"No. No, it isn't."
Black Templar looked down for a long moment. Wait, was he…shaking?
"What? What is it?" Ray was worried now.
"I'm not confident that this line is secure. I'll fill you in when you get here."
Black Templar leaned into the camera.
"I'm counting on you. We're all counting on you. Don't be late."
—————-