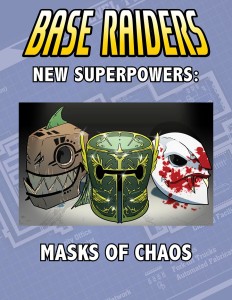 Two new PDF supplements for Base Raiders have been released! Both are available on DrivethruRPG and the Base Raiders store.
Like everything else, crime has changed in the post-Ragnarok world, but it has not disappeared. Even though the most notorious costumed villains have all gone, a new generation of evildoer has filled in the void. A new syndicate called MISCHIEF has appeared. A multionational gang of thieves and killers, MISCHIEF has a unique ace up their sleeve: the Masks of Chaos.
Each Mask of Chaos grants tremendous supernatural power instantly to anyone that wears it. MISCHIEF agents uses the Masks to rob banks and assassinate crime bosses, any heist or contract that pays enough. No one knows who leads MISCHIEF or where they found the Masks they currently use. Other Masks are still hidden, buried in ancient tombs in distant corners of the Earth.
This supplement covers the history of the Masks of Chaos, MISCHIEF as a criminal organization, with stats for MISCHIEF agents, plus how to create and use the Masks in your Base Raiders game. Check out an Actual Play that uses MISCHIEF!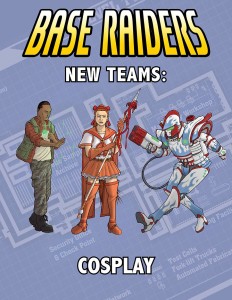 New Teams: Cosplay ($1.99)
By Colin Thompson
Cosplay is a new team of heroic Base Raiders usable as pregenerated player characters, NPC allies, or rivals. Each member of Cosplay has plot hooks that could be used in your next Base Raiders games:
Saber Antimony: A Japanese magical school girl who fought demonically possessed beings in Tokyo. She disappeared for a long time, only to resurface now. How did she escape Ragnarok? Why is she raiding bases? Is she the real Saber or an imposter? No one knows…yet!
Pretty Soldier: A talented Russian power armor pilot equipped with a unique suit of armor built with alien technology. Is she in control of the armor or is it?
The Chosen One: The little brother of a missing superhero takes up his cause. He has incredible telekinetic powers but also believes in his own hype too much. He literally believes he is the Hero with a Thousand Faces, which gets him into trouble quite often.
This supplement also contains information on how to use Cosplay in your game and Saber Antimony's arch-nemesis, The Darkness That Dwells. An ancient evil returning to menace humanity, the Darkness that Dwells can possess humans or animals, turning them into savage monsters.